KMC-2 Beamline
The beamline provides an experimental set-up for EXAFS, XANES, and X-Ray fluorescence measurements at-air in the energy range of 4 keV – 15 keV. Beam intensity is stabilized by MOSTAB electronics with an accuracy of 0.3 %.
ENDSTATIONS
DIFFRACTION STATION
For X-Ray diffractometry and reflectometry the experimental hutch is equipped with a 6-axis HUBER goniometer and a VANTEC 2000 area detector. An alternative point detector for high angular resolution is available.
Applications
• Grazing incidence diffraction (GID);
• Reciprocal space mapping of single crystal Bragg reflections
• Diffuse scattering
• Powder diffraction
• Anomalous diffraction
• Reflectometry
XANES STATION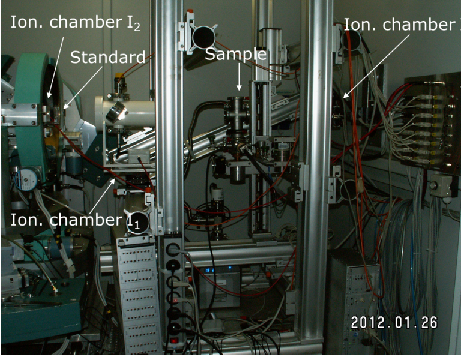 The KMC-2 XANES is a dedicated endstation to investigate the short-range environment around selected atomic species in condensed matter by X-ray Absorption Spectroscopy. This end-station provides possibility for EXAFS, XANES and X-ray fluorescence measurements at-air.
Applications
• liquids, molecular solutions, liquid crystals;
• single- and poly-crystalline materials;
• amorphous and highly disordered solids;
• molecules and macromolecules containing metallic atoms or partially substituted with heavy atoms.
For both endstations a variable suite of sample enviroment equipment is available, as well as a central user support by the sample environment department.